Editor's Note: This post was originally published in August 2017 and has been updated with new content and details for 2021.
Before we discuss its marketing strategy, let's consider the massive benefits of authoring an eBook in the first place.
Thanks to the proliferation of smartphones, tablets, and other eReaders, ebooks are currently a $8.69 billion industry – and still growing.
eBooks offer an excellent pay off for brands and businesses as they are multilayered:
Trust. From the get-go, a well-crafted eBook helps your target audience by answering a question or solving a problem for them. This is an opportunity to cover a complex topic in-depth. By communicating something complicated in a fun, easy to understand way, your business develops a reputation for being a reliable source.
Expertise and Authority. Using relatable examples and story-like explanations boosts the connection between your readers and your brand. Having offered something valuable to your potential customers, they will be impressed with your industry knowledge, thereby establishing your expertise and authority in your niche.
Advertisement. Delicately highlighting how your company overcomes industry challenges, including your own case studies, and weaving in positive client feedback is a non-aggressive way to demonstrate to readers what you offer.
Website Traffic. Promoting your eBook via social platforms directs users to your website. By including a clear call to action in your eBook, you drive traffic to your latest offerings, apps, and so on.
Qualified Leads. You can use your eBook to generate targeted leads by asking for contact details in return for the wealth of knowledge shared in your book.
Competition. Stand out from the crowd in your field by showcasing your brand's reputation, trustworthiness, authority, and expertise through your eBook.
Passive Income. In the long run, an eBook will become a source of passive income for your company.
Although you can repurpose many of your existing blog posts or articles to include them in your eBook, you will discover that creating and advertising an eBook is rather labor-intensive and time-consuming. Maintain momentum by keeping your eye on the prize.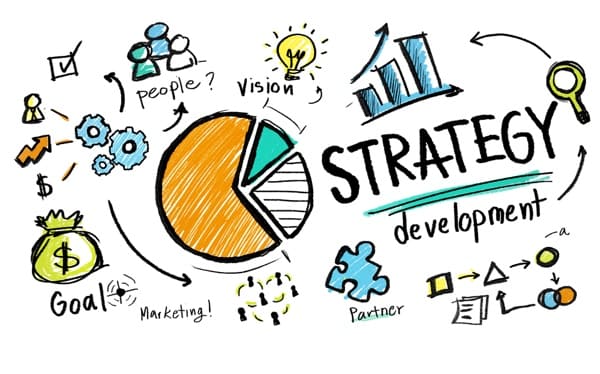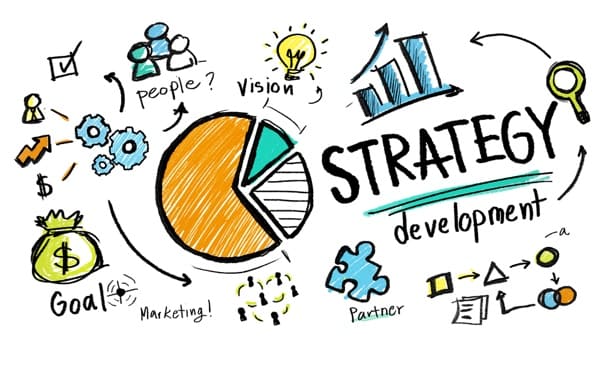 How to Market an eBook
Instead of a strategy with too many tactics, we wanted a way to narrow our focus and trim down the overall output. After much discussion, we launched an eBook marketing strategy – and here's how we did it.
The Goal of Our eBook Marketing Strategy
For our eBook internet marketing strategy, the main goal is to generate qualified leads. In this case, a lead is "qualified" when they fill out a contact form, essentially telling us, "Hey, we need your help!"
Simple, right? Every business needs qualified leads. But we're constantly surprised by how many businesses take a lackadaisical approach to filling their marketing funnel.
Granted, it takes time and a lot of research to put together a great marketing strategy, but it's well worth the effort. By outlining our eBook marketing strategy, we hope to provide a blueprint for businesses wondering where to start.
Pre-Launch Strategy Tactics for Launching an eBook
Aside from book editing, the title (critical to selling your book and SEO), and book cover, there are several pre-marketing steps you need to take.
1. Create a blog
Make sure your site has a blog on it. A blog gives you the chance to showcase your writing, engage with future readers, and drive traffic to your eBook landing page. Remember to enable comments and include social share buttons in all your blog posts to encourage reader engagement.
2. Start marketing with pre-launch landing pages
Collecting emails is the most effective way to keep in touch with your future buyers. It is also a great way to develop an interest in your book with pre-launch promotions. The best way to do this is through email-gated landing pages. Pre-launch promotions can help you generate all that important buzz before you even publish. The more excitement you can generate leading up to your launch, the better your product's chances for success.
3. Hyper-target your reach with Facebook Ads
Facebook Ads can be an extremely effective method for promoting your pre-launch eBook campaigns, raise awareness about your eBook, and get more Likes for your page. The ability to hyper-target your advertising to reach your desired demographic makes Facebook Ads an incredibly reasonable ad spend. Use Facebook Ads to drive likes to your page and traffic to your email-gated pre-launch website landing pages.
4. Send out email marketing automation campaigns
When you get lead information from people interested in your upcoming book, it is the perfect opportunity to stay in touch. Send regular emails to keep people posted on your book's progress, more pre-launch campaigns you are running, new blog posts, and invite them to connect with you on your social sites as well. You can even send pre-written emails to be triggered and delivered at timed intervals with email marketing automation campaigns. The more people get to know you and your work, the more likely they will want to buy your book to support your efforts. Email marketing automation campaigns will continue to build a buzz about your book launch.
Promoting an eBook When You Don't Have Money for Advertising
Here is how to take advantage of the enormous scope offered by the digital world and use different platforms and techniques to popularize your eBook.
1. Create a killer landing page
Your promotional campaign's primary goal is to drive people to the eBook landing page so they can then download it. Take your time, brainstorm, research your prospects' pressure points, and write some compelling copy about it. If your eBook is prepaid, link the landing page to a payment gateway. Remember to add the all-important social sharing buttons to your landing page.
2. Promote it within your website
Before going all out on promoting your eBook on different platforms, you first need to optimize your current platform to encourage visitors to download your eBook.
Add a pop-up eBook banner to your blog.
Place 'Download the eBook' CTAs in your top-performing posts wherever relevant.
Create an eBook slide for your homepage if you have one or a sidebar callout.
3. Use supporting content formats
As soon as you finish writing your eBook, write a few blog posts that complement or relate to your eBook. You can repurpose some of your eBook content for this. These posts will help establish you as a thought leader on the subject, earn your readers' trust, and further compel them to download the eBook. You can also try keyword-optimizing the posts' content to convert more website traffic. Not everyone may want to go directly to the landing page and download the main asset. However, by promoting other posts alongside your eBook, you will give visitors a different reason for them to check out your site. Once you have written your blog posts, be sure to place the eBook CTAs at the end of each article.
4. Go all-out on social media
Social teasers are a crucial aspect of your overall eBook social promotional campaign. These teasers can include actionable tips, quick how-to's, interesting facts, or key quotes from your eBook, presented in enticing and relevant content formats such as videos and images. Promote your eBook on various social platforms such as Facebook, Twitter, LinkedIn, Pinterest, Instagram, YouTube, Slideshare, Quora, and Reddit.
5. Explore other content sharing platforms
Social media is not the only place to capture your audience's attention. There are several digital platforms where you can share or submit your content and subsequently drive a sizable amount of traffic back to your eBook landing page. Consider using platforms such as Medium, Scoop.it, and StumbleUpon. The best thing about these sites is that they are free.
6. Use free tools to make your eBook go viral
Viral Content Bee is an excellent free social media promotion tool where you earn credits when you share others' posts, as do they when they promote your offering. The truly remarkable thing about this tool is that it allows you to elect on which social platforms you want your resources to be shared. Pay With a Tweet is another useful tool to make your eBook go viral on social media. This tool allows people to access your eBook's content for free in exchange for a social post on Facebook, Twitter, Linked In, Xing, or VK.
7. Try guest blogging on authority sites
Guest blogging is one of the most popular methods used by authors from all walks of life to promote eBooks. Not only does it enhance your authority and reach, but it also promotes your resources to those who are interested and passionate about your subject. Make a list of all the sites with good online authority, and then pitch a few guest posts.
8. Invest time in traditional email outreach
Email marketing is still alive and kicking. If lead generation is your primary goal, promoting your eBook instead of your main product makes you look less sales-like and more helpful in your cold emailing campaigns.
Getting Your eBook to the Top of Amazon
The best way to win on Amazon is to rank for keywords within specific Kindle categories. Ranking well in the Kindle Store allows your content to be discovered long after putting in the initial marketing effort. That is why optimizing for keyword and category ranking is the way to go. Take a look at these tactics for marketing your eBook.
1. Feed the frenzied freebie hoarders on giveaway sites
There are many sites out there where people hang out all day and collect free stuff to occupy space on their hard drive, making this a nifty way for driving downloads, which is a critical factor in ranking high. You should find the most popular section on each site where you can gauge what people find interesting and then calibrate your copy and positioning accordingly to maximize engagement.
2. Promote on websites with messaging systems
Many people do not have a blog or mailing list but have access to an on-site messaging system, which all boils down to pretty much the same thing either way as all site users receive push notifications. On-site messaging platforms can sometimes be email lists' 2.0's.
3. Build your insiders list and ask them directly
Keep an ongoing spreadsheet of family, friends, and life-long learner readers and then message them personally with the book promotion. Whenever you need others' support for a project, go through this insider list to see who might mutually benefit from getting access to something in exchange for a favor (like an Amazon review).
4. Find people with mailing lists and ask for real-estate in the PS
If you have a mailing list, you will want to email your subscribers about your book. If you do not want to give a mighty effort, try to find people with other mailing lists to promote your book. The challenge is that many people are hesitant to mail their lists promoting someone else's product, especially when they are not making a ton of money as an affiliate. One strategy to get around this is to ask if they can promote you in the "PS" section of an existing email they are already going to send.
5. Blitzkrieg relevant Facebook groups and Twitter handles
With free Kindle promotions, many different Twitter handles and Facebook groups are dedicated to featuring free books to their audience. These are the perfect places to promote your book.
6. Promote with your vacation autoresponder
The critical element of your autoresponder is your title. You want to tell people you are "Launching A Book" in the title. Launching a book does not happen every day, and the people who email you are bound to open your email to see what this book fuss you are talking about is.
7. Reward kind gestures to inspire more
Verbally rewarding the actions you want others to take often begets people to take that action. Understanding and leveraging this social dynamic can inspire people in your network to leave positive reviews of your eBook. Publicly thank everyone who downloaded your book and individually highlight those who left you a review.
8. Feature and quote other people, then encourage them to help you promote and review
The more people you can involve in the creation process, the more likely they are to help promote your book. Seek opportunities to feature other people, products, and services in your eBook, and then let them know that you included them. The hope is that this will inspire them to help you promote it.
9. Create ancillary content around the eBook during the week of the promotion
The content you create to drive downloads and reviews to your book should not stop with an "announcement" blog or social media post. There are many ancillary topics around your book that you can release after the initial launch to drive downloads and reviews. Videos on YouTube, SlideShare presentations, and other blog posts are a great starting point. One "ancillary" content idea that seems to get people excited anytime you are trying to promote something is when you share proprietary information about the process. Another useful piece of content you can use is updated progress reports on the book's success.
Bring Your eBook to Life with Video Marketing
As you likely know, people are watching videos more than reading, which is why you should add stories, interviews, and how-to videos inside your eBook to attract even more interest. There is no better way to fuel your business and multiply video impact than live streaming. Since video is dominating nearly all online communication channels, it is essential to consider how you can capture your audience's attention to lead them to your eBook without spending a fortune on ads. You will gain fast results if you live-stream your eBook content on YouTube, Facebook, or Instagram. Choose a platform where your audience spends their time.
More Ways to Turbocharge Your eBook Marketing
Smart eBook marketing will work like a charm to bridge the gap between readers' unmet desires and your eBook's ability to satisfy those desires. Here are a few effective eBook marketing strategies you can implement immediately, at no cost.
1. Start with pre-orders
A pre-order is simply an advance listing of your eBook at major retailers. Authors who list their eBooks for pre-order will sell more books, period. Pre-orders enable more effective advanced marketing results. When pre-orders are live, authors can start marketing their eBooks up to 12 months before release, even before they have finished writing them, by making a call-to-action part of their message. If you are like most writers, you can already tease your readers on social media about your work-in-progress. By including a pre-order link, you can capture their order the instant you command their attention and interest.
2. Create a private email list
All authors should maintain a private email list. Your list gives a direct, unfiltered communication channel to your readers. Never add anyone to this list without first obtaining their permission. You need to create a quality list that is 100% opt-in. Once you have subscribers, respect their inboxes and treat them like royalty. Offer them early notifications of your upcoming releases for presale or exclusive sneak peeks such as excerpts. Use an email list-management tool to build, manage and track subscriber sign-ups, and create and send professional-looking emails.
3. Update your email signature
You most likely compose dozens of personal emails every week, conversing with family, friends, and readers. Each of those emails represents an opportunity to remind recipients you are an author and have books they may want to read or recommend to their friends—as well as social media channels they may wish to follow, which is where the email signature comes in. An email signature is a short block of text that you can set to append automatically to the bottom of every message you compose. It is simple, polite, and unobtrusive.
4. Add enhanced back content
Put yourself in your readers' shoes. They finished reading you for the first time, and now you are their new favorite author. They want more from you. They want to connect. Make it easy for them.
5. Consider giving it away
Short-term promotions for temporarily free titles—or ongoing promotions for free novellas, short eBooks, or series starters—can help you grow your readership faster and sell more books. Offering something for free eliminates the financial risk for readers considering taking a chance on a new author. Once your writing earns the readers' trust and admiration, they will want to purchase your other books.
With any strategy, there's a main goal – in our case, those qualified leads! – but there are also stepping-stone goals that advance potential customers toward the finish line.
The first and biggest one of these stones is to get users to download our 30 Greatest Lead Generation Tips, Tricks & Ideas eBook. This is a free offer – sometimes called a carrot – that provides free, actionable lead generation advice for businesses and marketers. It's our way of showing our audience, instead of just telling, we really do know what we're talking about.
The hope is the free value of the eBook is enough to get potential customers to download it, thus entering our marketing funnel. Once there, it's the second star to the right and straight on to filling out a contact form and getting in touch with us directly!
The eBook Marketing Strategy
When you have a goal – a clear, well defined and attainable goal, not some willy-nilly pipe dream – the tactics fall into place in order to achieve that goal. I don't want to outright say that a goal is a strategy, but knowing what you want your audience to accomplish, instead of merely hoping they do something good, makes marketing easier.
Our eBook internet marketing strategy is straightforward. We use the tactics and channels our audience is interested in and active on to drive them to download our eBook. Then provide those who download the eBook with an easy way to ask for our help if and when they decide they need it.
That's it.
Admittedly, there are a ton of moving parts in order to execute those tactics and stay active on those channels, but we'll get to that in a minute.
For now, here's a brief snapshot of the tactics we use to drive our eBook marketing strategy forward: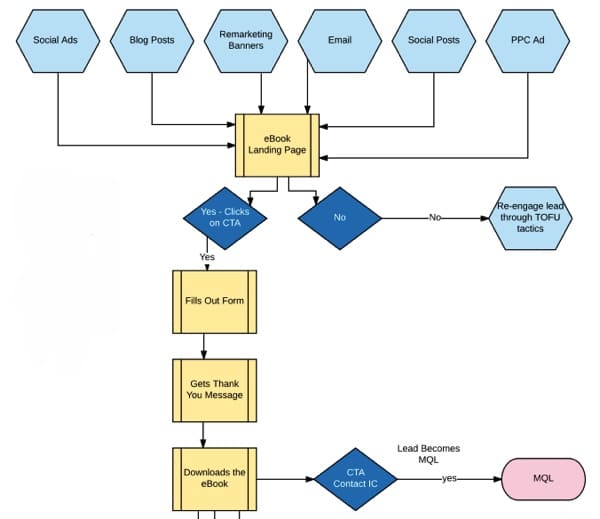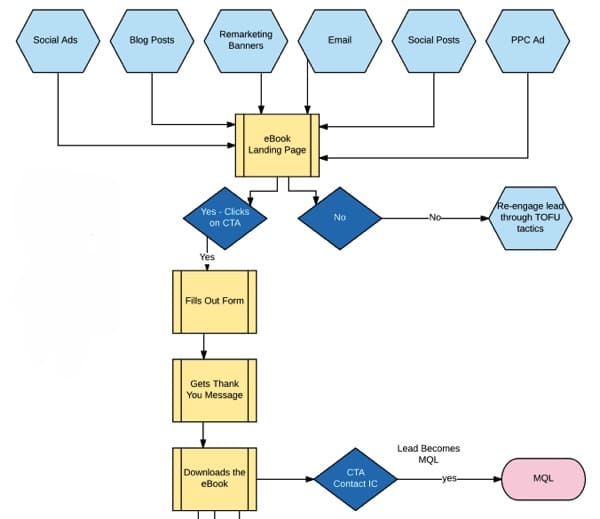 As you can see, social ads, blog posts, remarketing, email, social media, and PPC all work together in unison to help drive as many interested people as possible into our marketing funnel. These tactics, along with our main goal, are an eBook marketing strategy.
So, those six tactics at the top of the marketing funnel – are you thinking they're too much? Heck no!
We discussed overuse earlier, but when each tactic has an active purpose and doesn't put your team on overload (this is a huge no-no), then fire away! In fact, we use even more tactics during the re-engagement process when a lead doesn't download the eBook (but we can't give away all our secrets, so that's a story for another day).
The Execution
Ah, the most important phase of any marketing strategy: execution. More than the strategy and tactics phases, this is where things can go awry, mainly because it involves the doing.
That image of our eBook marketing strategy laid out on paper? That's easy to do. Technically, you could do that in MS Paint.
Executing that strategy, however, is another story.
We had a designer, a campaign coordinator, a writer, and a social media marketer work on the initial components of the strategy, like email content, design layouts, social posts, and spreadsheets with timelines and responsibilities. Each of these team members continues to work on the strategy, writing and scheduling blog and social posts, running ad campaigns, tweaking landing pages, troubleshooting ad hoc issues, and, most importantly, handling qualified leads as they come in.
If that sounds like a lot of work, trust us, it is. But you know what? It's worth it, and we believe the results will speak for themselves.
What Can You Do?
For marketers and teams who have never attempted a strategy of this scale, there's no shame in starting smaller. Especially if you have fewer available resources. If you have the means though, the more people you can attract and dump into the funnel, the better.
To businesses without the time or resources to implement any kind of dedicated marketing strategy, don't let that get in your way. Before you go running for the hills, consider this: digital marketing is an investment, not an expense. In fact, it is a crucial aspect of expanding your business. A strategy doesn't have to be expensive to be effective, but in any case, the whole idea is that you'll get your investment back.
Rather than assuming you can't afford it or waiting until next time, it can't hurt to find out what we can offer you right now. We'd love to help you create and deliver a strategy, all you have to do is ask!