Marketing (including digital marketing) is the act of persuading people to buy a product or service. Often, businesses need to convince customers to buy their product or service instead of a similar one from another company.
It goes without saying that marketing is getting harder and harder. Not only is competition fierce, but technology and the digital world are ever-changing. Nailing down a marketing strategy is like trying to hit a moving target.
Cheryl, our Director of Marketing, wrote a past post about marketers and their constant search for stakeholder approval. I've been part of many pitches and approvals, so I speak from personal experience: getting a room full of opinionated people to arrive at a singular conclusion is difficult.
That post is a great read but I want to change the conversation a little bit. I'm here to discuss the step before a marketing team presents its plan and asks for a go-ahead: selling the idea of marketing.
For agencies and marketers, the toughest part of making a sale is talking about money. Most family shops and small businesses don't set aside a marketing budget, so there's not much money to go around.
Here's the thing, though: every company needs marketing. Whether you have a product, service or an idea, it requires support and encouragement to make its way into the world.
Lately, I've been thinking about how to help businesses who won't, or don't think they can afford to, embrace the idea of marketing. As with many things in life, all that's required is a change of perception.
At the end of the day, everybody, including marketers, needs to view marketing as an investment, not an expense. I came up with a few points that I hope will change the minds of at least a couple of businesses.
Great Digital Marketing Doesn't Cost Money, It Makes Money
If I asked you to give me $500 today and I could guarantee I'd give you back $1,000 in 30 days, would you give me the money? It's not a trick and I can't steal your money. It's a straight trade of 30 days without your $500 for a 100% return on your investment.
The only reason not to accept is if you can't scrape together a spare $500. But I'd let you do it for $300, or whatever you could get. Given all these parameters, it's a no-brainer. You can't lose.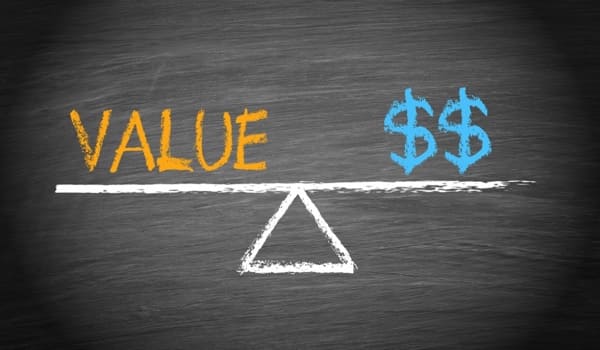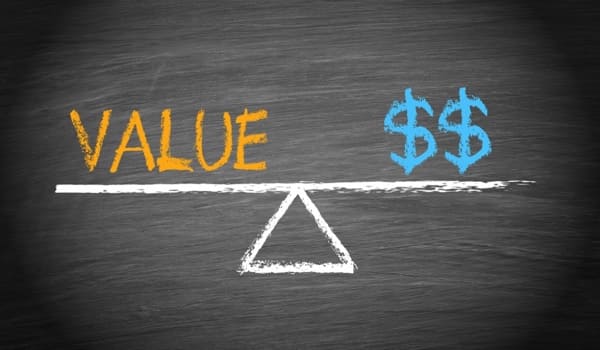 Digital marketing is the same deal. If you engage with the right kind of agency, marketing won't cost you money in the long run – it'll make you money. Like in the example above, you have to part with your cash in the initial stages, but you're likely to see a big return on that investment.
If it's so obvious, why isn't marketing an easy sell? Again, we're back to positioning and perception. Some marketing agencies promise way too much 'return on investment.' When they don't deliver within their promised time frame, the relationship sours.
But some agencies don't promise anything in fear of falling short. This makes selling marketing solutions harder because there's no visible benefit for the buyer.
It might seem like an irreconcilable difference, but there's actually an easy solution to this problem…
Digital Marketing Doesn't Have to Be Expensive
A while ago, we wrote a post about how it was possible to make a big difference with a small investment in social ads. This might not be the most popular suggestion amongst markers, but when encountering businesses that are skeptical about marketing, why not let them start small?
Say there's a business that only has a few bucks for marketing; okay, great, that's better than nothing! Help them implement something reasonable and effective, like a PPC campaign. When it works, the marketing has sold itself.
The concept is similar to that of a trial period for a software or an app; in this case, I'm not suggesting marketers do work for free, but something small is better than nothing, right?
It's not conventional, but if a little bit of "give and take" on both sides helps foster a fruitful long term relationship between a business and an agency, it's worth a shot.
Digital Marketing Trends to Invest In
As digital marketing continues to shape the B2B marketing landscape, marketers need to loosen their purse strings to make more room for new trends. Here is a look at a few must-haves in your digital marketing budget. Each of these trends will help you bolster reporting, close the gap between marketing and sales, prove ROI, and bring person-to-person marketing to the forefront.
Video and Live Streams
Consumers like to watch videos—four times as many consumers prefer watching a video over reading text. While Live Video is content marketing's latest shiny toy, you need to have a clear plan and solid strategy to return measurable KPIs if you want to be successful. With this live stream video trend going from novelty to marketing mainstream, the earlier you put a strategy in place, the better. Technology allows the "consumer as voyeur" model to grow. Add in the sense of urgency to watch now or miss it forever, and you have hooked consumers—even in the B2B space.
Content Marketing
While content marketing should still dominate your digital marketing budget, virtually every marketer is already creating content for their audience, and as such, it is getting harder to stand out in the crowd. Consumers are exposed to hundreds of ads each day, which means they are faced with content fatigue. Content will need to slow down and get real, with more authenticity, more personalization, and more intent. Brands are seeking tools to build custom experiences as personalization moves from buzzword to fundamental. Closely tied to personalization is journey mapping. Brands need to focus on understanding how customers flow through their journey, including content consumption, social sharing, purchase behavior, and figure out patterns to suggest the next best step for each unique consumer.
Strategy Creation
Producing content only to push something out the door is not a marketing strategy. A slew of mediocre content stemming from a lack of commitment to your digital content marketing strategy will hurt your brand far more than creating no content at all. Custom content is the way of the future. However, most B2B content marketers do not have a written strategy. Take a step back and figure out why you are creating, not just how. You want to create content specifically designed to move people from "just browsing" to the point of the sales funnel where they become buying customers. To do that, you will need a clear plan. You need to figure out the audience you are reaching, your goals, when and where you can deliver content, and why it matters. Spend time and put the resources in to craft a strategy and nail your KPIs.
Internet of Things
Welcome to the Jetson-era of Connected Consumer Devices. While smartphones and tablets remain essential in building a foundation for the Internet of Things (IoT) ecosystem, we have only scratched the surface of what is to come. Consider this:
Your car can alert your home thermostat when you are 10 minutes away to raise or lower the temperature to your comfort for maximum energy efficiency.
Wearable devices that monitor your blood pressure can send information directly to your doctor.
Your water heater can send out diagnostic reports to a customer service rep to troubleshoot issues before a breakdown occurs.
As this uber-network of connectivity continues to offer up more data that can be used in actionable strategies, it leads to more specific insights on consumer habits and preferences, equipping marketers to target their audience more accurately.
Content Distribution
"If you build it, they will come" is a myth in content marketing. While good writing can be worthwhile, good content is only noticed if sharing it is an integral piece of your digital marketing effort. To give your content any fighting chance, you will need an engine to drive it as a means to get the information in front of your most important contacts. As marketers aim to decentralize content, many take their content to new channels to see what resonates with their audience. Paid content can give you a slight boost, but 90% of social clicks go to organic content, and on Google, organic content commands 80% of clicks. Before you spend time creating a piece of content, you need to ask yourself who cares, pinpoint why, and then build a network to amplify your work.
Cross-Device Marketing Strategies
The average consumer is connected through more than five digital devices, which means that marketers are looking at five times the work to ensure the content they have created is optimized for whatever platform their audience wants to digest it on. As new platforms, like wearable devices, go mainstream, other platforms you may not even have thought about are emerging. Make sure there is enough room in your budget to invest in them before you are left behind.
Account-Based Marketing
There has been a seismic shift in marketing looking at new, customer-obsessed approaches that team up with marketing and sales to gain long-term, high engagement revenue relationships with key accounts. The ABM method puts a focus on customers that fit your brand's ideal persona first and touts a greater stake in the post-sale customer experience with the overall goal of creating advocates to market your brand with you. Marketers see seriously positive repercussions for the new, customer-obsessed approach. The most persuasive aspect of a company's website is content that speaks directly to their needs. Marketing needs to pinpoint a specific persona and talk to their pains. Technologies like Salesforce and Salesloft (among others) help tag a list of companies that match your best-fit customer criteria, so you might want to stack them into your digital marketing budget.
Email and Marketing Automation
According to The Radicati Group, there are over 2.6 billion email users across the globe. What is more is, some 55% of company decision-makers prefer to communicate almost exclusively via email. Not to mention the ROI is higher than any other digital asset at a staggering 4,300%, according to the Direct Marketing Association. According to Salesforce Marketing Cloud, every dollar spent on email marketing offers an average return of $44. As consistently shown to increase open rates and click-through rates, personalization is key to email marketing. Volume is also an essential requirement. The best route to success with email is to build an extensive email list (email-gated content is perfect for this), segment by interest, set it to send automatically with merge tags, and then take over with a personal touch at the optimal time. A good marketing automation platform will enable you to send an email to a sales associate when someone replies to an automated email.
SEO
Search engine optimization is growing at lightning speed. Google's algorithm updates continue to keep marketing departments on their toes while new optimization trends are taking shape. Keywords are maturing to optimize for user intent. People today know precisely what they are looking for, and as more users type full queries into search engines, data and heuristics are collected, which can offer up more targeted results effectively. You need to figure out what questions your ideal buyer personas are asking and target what they are searching for that brings them to your page.
The ROI of SEO
Just because you launch a website does not mean search engines have to show it to people. You will need to meet search engines' ever-changing requirements in areas such as security, quality, freshness, authority, speed, and user experience. It all comes down to including SEO in your digital marketing strategy. Two types of SEO that should get regular attention include technical SEO (related to your website as a whole) and on-page SEO (related to individual content). By staying on top of optimization, here are the benefits you can expect:
Improved position in search results
SEO earns you points for different ranking factors, which tell search engines how to position you among the millions of other websites on the same topic. It also encourages regular crawling and re-indexing of your site. Every crawl is a chance to move up to a better position. Without SEO, your site could live out in the boonies on page 32 of search results—and you can imagine how many searchers ever venture that far.
Increased traffic
A better position in the SERPs often leads to more traffic, and more traffic equals more potential for conversions! If your conversion rate is 5%, just think about it: 5% of 3,000 monthly visitors is far better than 5% of 300 visitors. SEO helps you target the correct audience and bring them to your site.
Better user experience
Technical SEO involves frequently conducting website SEO audits, analyzing the results, and implementing fixes, including site security and speed, contributing to a stronger experience for each visitor to your website. Search engines factor in data on your website's user experience, which directly affects your position—and thus, your traffic. It is all related!
The ROI of Content Marketing
Content can be so much more than just blogs. It is about finding the medium(s) that your audience most enjoys and then creating that form of content: videos, podcasts, infographics, Pins, research papers, and studies, to name only a few. But business blogs have a great ROI too. Tons of global companies have corporate, creative, or culture-focused blogs. If you did not see any results from your content marketing, chances are you either pulled the plug too early or were not doing it right. It can take more than a year to see content marketing ROI, so it is essential that you stay consistent! Good content marketing will keep your website fresh in the eyes of search engines, showcase your expertise, and lend authenticity to your branding. Instead of stressing about the six hours spent writing a post, think about the incredible benefits you can get back from that six-hour investment:
Keyword optimization
Content gives you a place to improve your position in the search results for specific terms and phrases. Creating content around your keywords will help with all those on-page SEO points. It brings in your target audience—you know, the ones most likely to convert.
Link building
One ranking factor that has remained the same ever since the loom of SEO is backlinks. Earning links to your site, especially links from high-quality websites, is one of the best ways to improve your position. You could ask other sites to link to your homepage or services, but that is limiting. Enticing new content gives you a bigger, better means to earn your links and build that authority. You can even create content specifically for all your link-building efforts!
Lead generation
You will always need more leads. But you can only get so far with a "subscribe" button on your homepage—especially if you do not have a blog, because then who would know what that button even means? You need to provide a reason for people to share their private details with you, and the best reason is most often juicy gated content. A powerful infographic, video tutorial, or eBook can be the hook you need to get that new contact.
Feed your other marketing channels
Keeping up with company social media can be challenging, especially when you have little time—or without a designer to create pretty branded graphics. Content is often the best way to invest in a digital marketing strategy because of the many ways you can reuse it. You can write a blog post and then do a video or podcast about the same topic. Blog posts and case studies can give you something to share on your social channels. This content can help you run an email marketing campaign. You can also use it for ads. All these marketing channels, in turn, drive traffic back to your site with the potential to convert.
The ROI of Social Media
If a business can or will not invest in a digital marketing strategy, social media often takes the hit. It is not a part of your website, it can be challenging to keep up with, and it may seem like the least important part of the puzzle. However, social media and SEO are BFFs. While having social profiles with likes and follows does not impact your domain authority or position in search results, there are certain aspects of SEO that social media can affect:
Social posts can boost your content's reach, which helps you earn links.
Social profiles tell your company story; most Millennial and Gen Z consumers prefer brands that share their values.
Social media encourages engagement with customers.
Search engines scrape online business profiles, including social, to understand what you do and where you are located—which is huge for local SEO.
As with content marketing, a strong ROI from social media comes from focusing on the social channels your audience uses most. It is not about being on every app or network; it is about being active, helpful, and engaging wherever your customers spend most of their time.
Promotions
While this might be obvious, it cannot be overlooked—social media is way up there with ads when it comes to amplifying sales or promotions. Share your big sales or discount code on social media channels, use trackable codes in your posts or bio link, and you can measure exactly how many people visit your website and make a purchase.
Brand awareness
Having an active social media profile helps new people discover and learn about your business. People who find your social profiles through following hashtags, discovery features, or friends' posts might not convert right away—but now they know your brand. When the time comes that they need your product or service, you will be familiar—plus, you will have a nod of approval from any peers who follow you or share your content. Social influence can be felt when you perform keyword research and see increased monthly search volumes around branded queries that include your business name.
Social search
Your customers rely on thorough research before making any commitment to you. That process now goes way beyond basic Google searches; YouTube is the world's second most popular search engine. Your company's social profile may likely be the first place that customers find you, which can make or break that conversion. Having an active and online brand presence where your customers seek you out will affect their perception of your company and drive traffic to your website.
Reviews
When it comes to local SEO, reviews are known to be among Google's 200+ ranking factors and will display in the search results for your business, including Facebook, Yelp, TripAdvisor, and Google My Business profiles. Whether you are B2B or B2C, earning multiple strong reviews can help you get into the local pack (top 3 results shown on a map). However, a few spammy or poor reviews can lower your position in the results.
Customer engagement
Being able to interact with customers directly is a critical part of driving sales as it allows you to: observe who your customers are and what they are into through their social profiles; earn positive comments and re-share them as posts; address negative feedback before those comments become SEO-impacting reviews; gain insights into what you can do better, and then improve your product for better sales.
Reasons to Invest in Digital Marketing
In a world where every analogical aspect is finding its double online, your advertising cannot be the exception. The best way to dip your hands into the new digital era is to create a digital marketing strategy. While it may sound extreme, traditional marketing has been completely overrun by online marketing. If you want to gain cut-through in any market, your business needs a strong marketing strategy, which is why you should invest in the area where your customers are spending the most time, the digital space. Here are six reasons your business should invest in a solid digital marketing strategy.
The Internet Will Continue To Expand
The digital revolution is all around us. Thanks to companies such as Google, the internet is now the first point of research for most consumers. The average person spends over 6 hours a day on the internet, increasing year after year. The internet is an incredible platform to spread information. It overshadows any other media, and its reach will keep on growing exponentially. While traditional marketing hopes to generate reach and visibility, the internet does it better. It is more persuasive, much more effective, and gives the client complete control over their experience. Prospects can assess products, review their specifications, and others' opinions on those products. The internet is clearly like nothing else if someone wants to search for information on your product or service.
A Much More Precise Audience
Traditional marketing media has a considerably limited impact on consumers, mainly because marketers using traditional means cannot segment audiences nearly as effectively as digital marketers. There are numerous digital tools you can use to determine your ideal target audience so you can focus on them to get great results. These tools analyze diverse factors, such as geographic location, demographics, interests, and so much more, so you can finally address the audience you are interested in. The algorithms created by digital platforms such as Google and Facebook give consumers the best and most personalized experience online. They provide a platform that brands can utilize to target digital marketing campaigns to their perfect audience. In allowing consumers to dictate their interests, businesses can avoid disrupting the wrong audience with advertising that is not relevant to them, potentially damaging brand reputation, and providing no return on your marketing investment!
Its Reach Is Practically Unlimited
With the internet being available in most parts of the world, the sky's the limit in terms of your ability to reach new audiences. There are over 1 billion active users on Facebook alone—that is much opportunity to grow your business! With a strategic approach to digital marketing, your potential to tap into the masses and increase brand awareness is both simple and cost-effective. "Viralization" can be one of the most effective ways to get your brand out there. Of course, to get to that point, much hard work is needed. You need to update your content regularly, post useful and relevant information, and make the experience worthwhile for the user. If you can manage to capture a customer's attention and they promote your work, you can broaden your reach and impact many more prospects with minimum effort.
It Will Allow you to Boost your Creativity
The boost in creativity is one of the major advantages of digital marketing. With all the options available, you can turn your most ambitious projects into a reality and develop concepts and ideas like never before, without needing to follow boring and monotonous rules to obtain desirable results. You can now use the most innovative formats to better impact your audience, making it more memorable and strengthening your brand identity. By making the most of each digital platform, you are sure to get stronger results. Add to this the incredible variety of formats supported in the digital world, and there truly needs to be no limit to your creativity!
Measuring Your Digital Marketing Results Is Much Easier
Following up on your advertising and digital marketing actions becomes practically effortless with the different digital tools that enable you to monitor all your digital strategies with precision in real-time. These tools use digital marketing metrics to help you judge how effective your strategy is and tell you whether you are on your way to achieving your projected ROI. With every campaign that you run online, whether it be via social media, Google Ads or retargeting, you are leaving a digital footprint and setting it up for analysis. Tools like Google Analytics allow you to accurately measure where your consumers are coming from, what they are engaging with, and at what point they disengage. Data analysis will enable you to adjust and redirect your digital activity based on the insights you gain in real-time from your campaigns.
Its Speed Is Unbeatable
The speed offered by digital media is unrivaled, and its coverage is instantaneous. Because there are no barriers, negotiations happen much faster. Direct and immediate communication with clients and partners allows for instantly accessible results. Everything also occurs in the same place. As your brand, the consumer, and the media you advertise on are all online, it enables you to analyze the entire process and all of them simultaneously.
In Conclusion
Marketing is an investment in your brand and its idea. Similar to how a gym membership is an investment in your health, and a savings account is an investment in your financial future, marketing is an investment in your business.
At WSI, we believe every big idea has merit. It's our job to take big ideas – ones just like yours – and help them realize their full potential by harnessing the power of digital technology.
Whenever you're ready to make an investment in your company's future, we're here to ensure you achieve that return with a sound digital marketing strategy.