Google's core mission, to "organize the world's information and make it universally accessible and useful," means that they regularly need to update their search algorithm to sort through the hundreds of billions of webpages to find the most relevant, valuable results for their users. And for some of the more extensive updates, the ones that can have a major impact on the Search Engine Results Page (SERPs), they will often be given names like Panda, Hummingbird or the unfriendly-sounding Mobilegeddon, to help marketers keep track of these algorithms updates.
Staying on top of the Google algorithm updates can be a full-time job (and one of the reasons why working with a WSI Consultant can be a life-saver!), and that's why I've put together this post on why these changes happen and what you need to know.
Why Updates are Important
Google's algorithm updates are very important for web admins and digital marketers. They are designed to help us do our job better in future, enabling us to reach our audience through better, more accurate search results. Unfortunately, they can also lead to short-term changes in rankings. Website operators will need to take careful note of these and adjust their SEO approach to work with the updates and restore or improve their SERPs.
How Updates Make Search Better
The aim of Google's updates is always to improve the quality of search results. Most changes focus on one or two specific features, such as fighting spam or – as is the case with the latest update – improving the rank results of fast websites. The result of an update should always be a better experience for Google's users: search results that are more relevant, accurate and refined. From the point of view of the marketer or SEO expert, these updates can cause a few short-term issues but, once we adjust to the updates, we can use the improvements to help us reach our audiences and offer them more relevant content.
Core Updates Involve Broad Improvements to Search
Google makes updates to its algorithms all the time, most of which are minor tweaks to specific functions and features and are usually not noticeable to users. However, core updates are done less frequently, and they involve more substantial updates, which can result in noticeable changes. Everyday users may not see these shifts, but those who run and optimize websites almost always do. Here are some of the recent core updates that Google has completed:
Core Web Vitals & Page Experience Updates
One vital new tool that Google has introduced recently is the Page Experience Report (found within Google's Search Console), which reflects data on the page experience metrics of your site over the past 90 days. It shows what percentage of your pages have provided a good page experience, as well as the number of impressions each URL has received in organic search results.
All web admins already know that content relevance is not the only factor that drives search engine rankings; the experience you offer your audience on each page is also vital. The data in your Page Experience Report will help you improve your customers' experience of your website, offering accurate analysis of UX on each page and enabling you to take focused action to improve and optimize as necessary.
What You Need to Know About Web Core Vitals and Your Google Ranking
Core Web Vitals measure page experience signals to ensure that pages offer an engaging and satisfying experience for web users. Its metrics include:
Largest Contentful Paint (LCP), which measures how long it takes for the largest image on a page to load;
First Input Delay (FID), which gauges how long it takes for the page to respond when a user clicks a button; and
Cumulative Layout Shift (CLS), which measures the page's visual stability.
There is no doubt that Core Web Vitals are an important ranking factor, and must be taken into account in creating and maintaining each of your web pages. In addition to improving the relevance and readability of your content, you must also give attention to your LCP, FID and CLS if you want to boost and maintain your SERPs.
Google July 2021 Core Update
A continuation of the update that took place a month earlier, Google's July 2021 core update was not focused on any particular region, website category or language. Google calls it a broad core update designed to help the search engine put better, more relevant results in front of its users. After this update, your search rankings may experience a bit of a shake-up. Some results may move down a position or two, while others may get a boost. Be sure to monitor any changes in your SERPs and know that the core update may cause these shifts.
Google June 2021 Core Update
Google also explained that the July update was a continuation of the one they introduced in June. However, some of the planned improvements for June were not quite ready, so the company decided to implement those that were, following up a month later with the elements that were still under development. Therefore, it is possible that your rankings may have changed in June and that those changes would then have been reversed a month later when the July updates went into effect. Google says that most websites wouldn't notice the changes, but SEO professionals who manage many sites will likely see their impact.
Our Philosophy on Core Algorithm Updates
Core updates are necessary and ultimately help us, as digital marketers, to do our jobs better. They very often don't produce any significant changes in search rankings. However, we understand that this is not a reflection on the website itself or its content or SEO strategy when they do. As Google says, there is nothing wrong with a website that drops in rankings after an update. If a website is affected, all that is required is a slight adjustment in SEO tactics. With the latest update in mind, I'd recommend you assess your current keyword usage and re-examine your website's competitive position relative to others in the same sector, and adjust your approach as necessary. Progress is no cause for panic; these updates will serve your website in the long run. And if you have any questions, you can always contact the team at WSI for help!
What Web Admins Should Know About Google's Core Updates
The first thing for all web admins to remember is that a change in rankings after an update does not indicate that something is wrong with the website. Google advises that you continue to focus on your content and ensure that you offer your audience the best you can. Analyze your content's accuracy, originality and relevance and improve it constantly – which you should be doing anyway, regardless of Google's updates. You may want to relook your keywords and focus on optimizing pages that have seen a significant drop in rankings since the update. Again, this does not involve fixing anything but instead continually honing and optimizing your content.
Google's Deduplication Spoils SERP Double-Dipping
Google gifted all of us with a fairly significant update to featured snippets in early 2020. And if you've followed our advice to add 'keep a very close eye on Google' to your list of New Year's resolutions, then you might already know all about it. (And if not, don't sweat it – we got you covered).
The update has been impactful and, naturally, a hot topic among marketers and business owners everywhere. I'll discuss some background info behind this update, what it's affected so far, and what you should watch out for as you continue to monitor your organic traffic.
Recap: Google Tinkered with Featured Snippets in 2019
I blogged about On-SERP SEO and the increasing importance of featured snippets. This time in 2019, marketers everywhere were working to secure their site's featured snippets to earn the top spot on a results page, which was lovingly referred to as position zero.
Position zero is essentially the Mt. Everest for SEO pros since this is where fully optimized URLs were prominently featured and ranked above position #1 in the normal search results. For example, here's the featured snippet in position zero for the search query "What is an Android TV box?" You'll notice the featured snippet provides the user with a complete answer without requiring a click-through.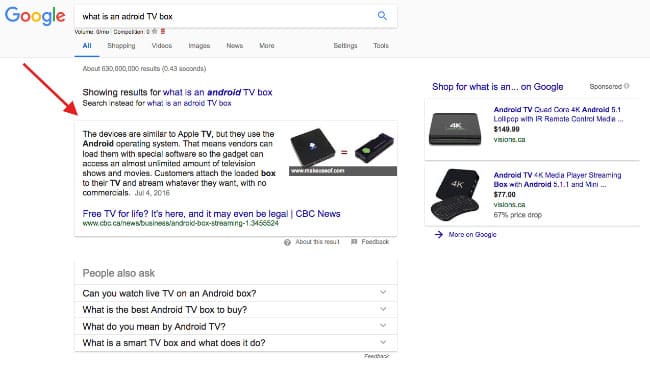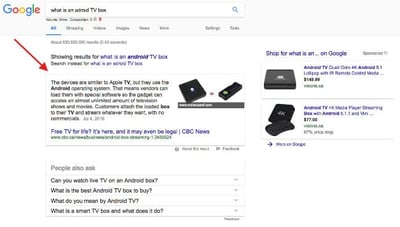 Ultimately, Google's goal for featured snippets in the top SERP spot is searcher-centric. While it might complicate our lives as marketers (since featured snippets arguably negate the need for searchers to click through to the web page), it was designed to provide a searcher with a relevant, concise, and convenient answer.
Current Situation: Google Deduplicates Search Results In Light of Featured Snippets
Throughout 2019, URLs that held position zero by way of featured snippets often benefited by appearing twice on the first page of the search results. Twice! Some may have even appeared in the number one ranking spot just under position zero. Scenarios like this were enormously beneficial to organic traffic; the more SERP territory you occupy, the more exposure you have, potentially increasing your click-through rate. It was a marketer's paradise to occupy those top spots… the operative word being was.
Now, Google's latest update involved a decluttering of page one search results. URLs elevated to position zero with a featured snippet will no longer appear anywhere else on page one. This clean-up is known as deduplication.
Essentially, the goal is to streamline the search results, so users are presented with clean, relevant information. After all, from a user perspective, seeing the same URL ranked twice on the same page is redundant and possibly pushes another relevant – albeit competing – URL down to the next page.
In short, users may appreciate the update; marketers, not as much.
Beware: Unexpected Byproduct of Rollout Affecting Some Websites!
Along with this update, Google may have inadvertently caused a spike in blood pressure to marketers around the globe!
For a few websites (and you may want to pay particular attention to this if you own the featured snippet as well as the Knowledge Panel along the right side of the SERPs on a desktop), marketers reported sudden site rankings to plummet from page one to page two in the search results. Many marketers were shocked to see their Search Console reporting URLs previously core ranked in positions 1, 2 or 3, pushed to position 11 despite owning the featured snippet. (image source) 
If this is something you noticed, you can likely unclench and take a deep breath – Google is reportedly working on rectifying this, and your ranking will be returned to its former glory.
Key Takeaways From Google's SearchLiaison
To cover our bases, I compiled several additional factors to consider, which you can follow here:
The deduplication rollout was global – as mentioned above, there are some wrinkles to iron out. If you were affected, keep an eye on your Console and actively monitor to see the correction that's expected this week.
Deduplication will not affect video snippets – but given the error with Knowledge Panel deduplication, I recommend you just keep an eye on these rankings too.
Deduplication is not intended to impact Top Stories or Interesting Finds.
Deduplication will not affect Search Console performance reports – sites that still own the featured snippet, but have lost the organic number one position, will still be reported as the number one ranked position. #phew
The discussion and the Q&A continue, so follow the thread with Google's Search Liaison at @searchliaison.
Next Steps
We know by now that Google regularly releases changes to improve search results for users. Each time a broad core algorithm update is released, our recommended game plan always involves creating quality content and providing useful answers to your audience's queries.
And this time, it's no different.
My advice is to stay on course and focus on catering content to your audience. This update may have forced you to take a hit to your rankings, but follow Google's example and mould your strategy to the users who are searching for your products or services. And – perhaps most importantly – keep asking questions to stay on top of this update (and future updates, for that matter). Follow the convo on Google's SearchLiaison or ask us directly. Google updates like this are often disheartening for small businesses, but there is always an optimal path forward.